Saddam was not executed;
he was assassinated
by the same assassins who attacked him in Dujail,
aided and abetted by dubya, et al.
It is no coincidence that President Gerald Ford
died simultaneously -- he had given us Executive Order 11905
forbidding political assassinations.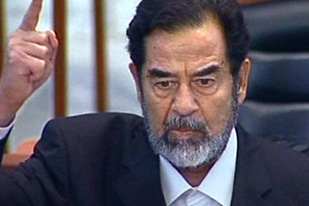 What dubya has inadvertently done is set Saddam free.
Marvin Minsky, "the legendary pioneer of artificial intelligence ponders the brain . . . and lays out a plan for superhuman robot servants," in the January 2007 issue of Discover, states:
". . .Some people believe that you should die, and some people think dying is a nuisance. I'm one of the latter. So I think we should get rid of death."
And indeed, in Saddam's case, we have --
SADDAM IS ALIVE AND WELL AND LIVING WITH ME IN NYC
"She is three lightyears ahead of them."
MarvelousMom(codename:GraceUnlimited)