The Wheels of War grind on.
compliments of 8 pigheaded whitemen
MAKE PEACE WITH SADDAM

"use wisdom not violence" after 911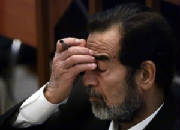 Saddam's world view -- wisdom
dubya has murdered maimed
and grieved millions
and that was just THIS year.
The deaths raise to 54 the number
of American troops who have died in December,
which is on track to become
one of the deadliest months of the war.
At least 2,942 members of the U.S. military have died
since the U.S.-led invasion in March 2003,
according to an Associated Press count.